Sen. Kyle Loveless has resigned apparently as a result of campaign finance mistakes he made and official inquiry into those campaign finances.
Senate President Pro Tempore Mike Schulz, R-Altus, released the following statement after accepting the resignation of Senator Loveless, R-OKC:
"Today, I received and accepted the resignation of Senator Kyle Loveless, effective immediately.  I wish Senator Loveless and his family best wishes moving forward." 
"I tended this resignation with much regret," wrote Loveless. "Mistakes I have made are the responsibility of no one other than myself."
Loveless is not charged with a crime, but Oklahoma County District Attorney David Prater said he would review the Oklahoma Ethics Commission's investigative information on Sen. Loveless according to reports by The Oklahoman in February.
Sen. Loveless was best known for his opposition to Civil Asset Forfeiture, a practice covered by Tulsa Today in the following stories.
Civil Asset Forfeiture featured in video
Compensation for victims of asset forfeiture
Forbes covers OK shame in civil forfeiture
Comprehensive forfeiture reform package
Oklahomans support asset forfeiture reform
Sen. Loveless studies civil asset forfeiture
Bill ensures due process in asset forfeiture
Police seized over $40 million in OKC area
OK Senate announces interim Legislative studies
Sen. Loveless: On Personal Asset Protection Act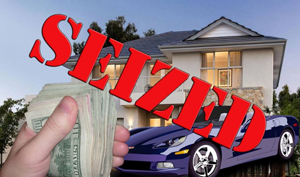 Civil Asset Forfeiture is a very sad if not evil way to fund law enforcement, but it happens in Oklahoma daily. Desperate to fund enforcement, officers act as highway robbers – seizing money on any pretext they think reasonable. To recover property taken, a citizen must file lawsuit(s) for recovery. While the courts hold citizens innocent until proven guilty, your property is assumed guilty until proven innocent. If citizens don't fight for their stuff – enforcement keeps it.